3 in 1 Postpartum Support Waist Trainer
S / Beige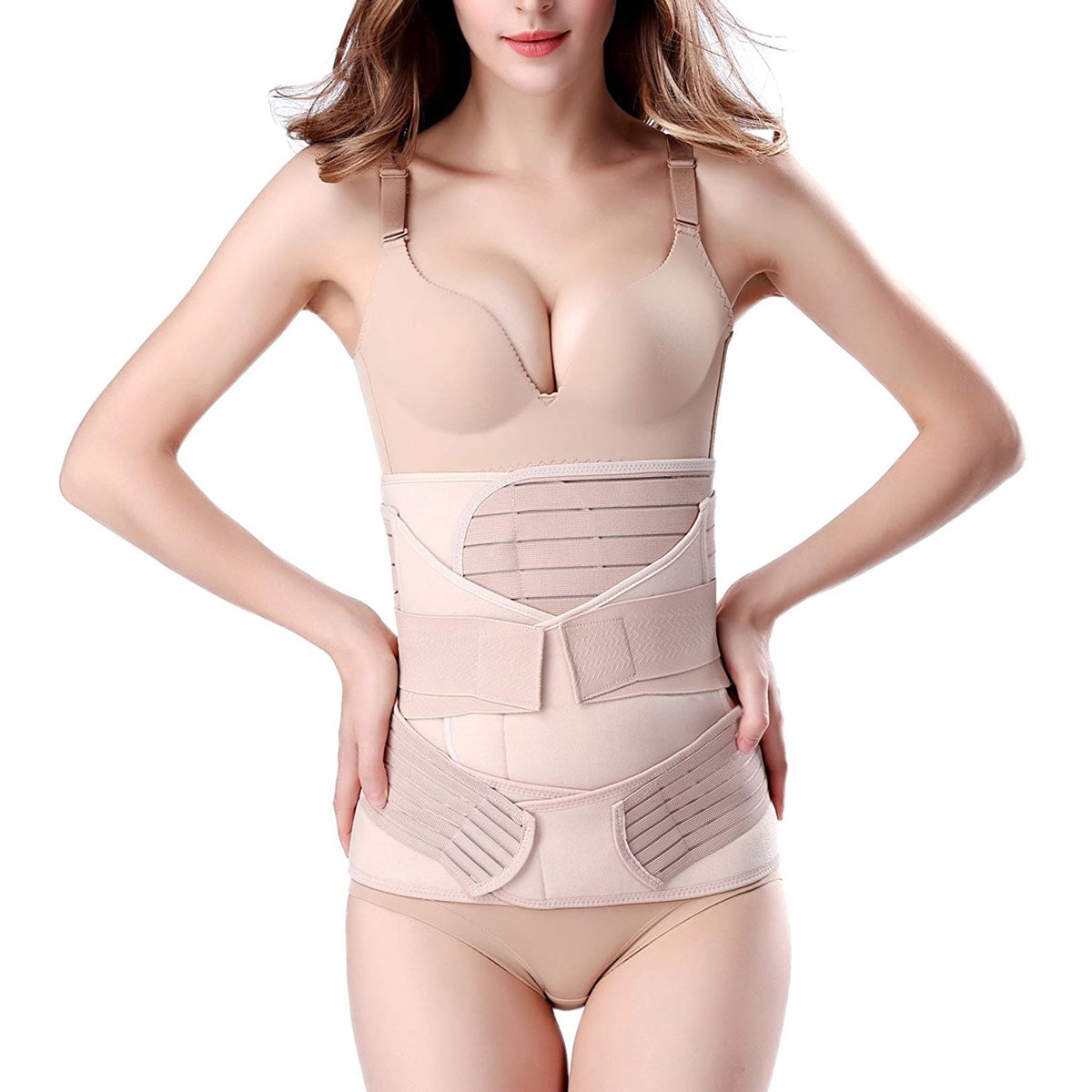 3 in 1 Postpartum Support Waist Trainer
Postpartum Belly Wrap 3 in 1 Support Belt Recovery Waist/Pelvis Shapewear Girdle 3 in 1 Postpartum Support Recovery Belly Wrap Waist/Pelvis Belt Body Shaper Postnatal Shapewear Package: 1pc Belly
View details
Helps shrink belly, waist and hips

Prevent organs/skin from sagging

Relieve back & pelvis pain

Helps ease transition of uterus

Minimize stretch marks

Accelerates postnatal healing

Adds support while breastfeeding

Provides comfort after C-Section/ Natural delivery

Breathable

Adjustable

Stretchable

Lightweight

Not intended for use during pregnancy

Avoid contact with the skin directly, recommend to wear an undershirt under the belt

If you feel uncomfortable during the using process, recommend to adjust the tighten or reduce the using time

Wash it with clean water before your first use

Please DO NOT dress the belt when sleeping

High Elastic
Breathable Structure

Adjustable Velcro

Neat Binding
Formaldehyde-free
AZO-free dyes cloth

This is a great postpartum belt. My baby is 3 months old and I just started using it and I see a big difference between this and other belts I own. The first amazing thing is the fact that it has velcro so you can adjust it yo how much you can handle, so I guess it may be good for moms who had a c-sec (not my case); or, if you lose weight fast -normal at the beginning -you can adjust and use it for a long time after having your baby, so no need to purchase extra belts to adjust to your changing body. The second thing I really like is that it is 3 belts in one, but you can use it separately, so it is great to use it at night and to adjust the part you need the most without putting to much pressure on other parts. The design is very smart. I am very glad I bought this and would totally recommend it.
Also the materials are soft, very light and so far they seem very quality.

Anthony McCreary
Well I gave birth to my baby boy, and I am currently 4 days postpartum. I notice an immediate difference when I wear it all day and my stomach looks flatter and more toned. I have been loving it. I dont wear the pelvis belt because I dont feel it's necessary. The belt is very adjustable and the material is comfortable enough to leave on most of the day. I would highly recommend this belt. Oh, and its not noticeable underneath semi-fitted clothes as I have worn it out as well.
Shannon Bowen
I was quite skeptical of this binder but I figured I'd give it a try and the results have been stunning. At two weeks postpartum I'm back into my regular clothes and I actually look better than I did before the pregnancy. My waist is smaller than it was and I have more of an hourglass figure. I'm wearing a bikini already and I thought I'd look big all summer. I was a size 4 when I got pregnant so I've always been slim and getting my pre-pregnancy body back was important to me. I only gained 26 pounds during the pregnancy and worked out everyday so I think that helped as well. The night I got home from the hospital I put this on and when I woke up the next morning I didn't look pregnant anymore. It really was amazing and still is. I figured it was just a gimmick but it was only 19.9 bucks so I figured what the hell. Best 19.9 bucks I've ever spent!

Sandra Luna